Ladybug Family Game $20.00
Designed by a Teacher-Mom
to help toddlers and preschoolers
learn early math skills.

This favorite QUIET activity for church and car can be washed
and dried with all 10 babies zipped inside the Mama Bug.

A team of preschool and early elementary teachers brain stormed to write 23 activities to help kids learn early math skills. [But it's also fun to just play with all the bugs!!] This is one toy the kids will never get bored with.
Activities are written for ages one to eight. Children under the age of three must be supervised, of course!

Machine wash & dry.
Size: Mama Bug 8"x12"
10 Baby Bugs, 2"x3"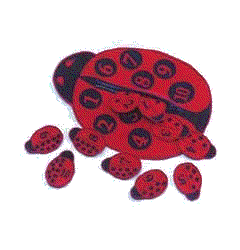 Ladybug Family Game $20.00